22nd Push Hands Meeting
The next Push Hands Meeting will take place 22nd to 26th of February 2023.
See also: 21st International Push Hands Meeting – Photos, Comments and a big Thanks!
The International Push Hands Meeting
Founded in 2000 as an annual exchange meeting for the scattered push hands practitioners of different schools and styles in Germany and Europe, the International Push Hands Meeting in Hannover (Germany) evolved into Europe's biggest meeting dedicated solely to the partner work in Taijiquan – Push Hands and Applications. Our 5-day meeting (Wednesday – Sunday) always takes place in spring; its official language is English.
Touch – Feel – Communicate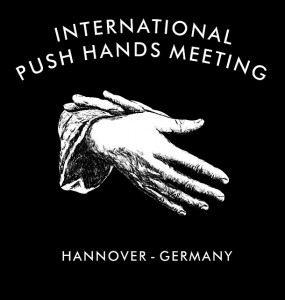 The International Push Hands Meeting is dedicated to the internal arts and their (martial) application in contact, independent of styles. We host teachers of different schools and systems, seeing Push Hands as a means for cross-style communication and a great opportunity to test, to research and to enhance one's skills, not to mention the fun of being able to communicate without words. Our approach towards Push Hands is experimental rather than competitive: it is not about winning or losing, but about the creation of a situation, where one can consciously explore one's limits and widen one's comfort zone in personal interaction.
Discover Push Hands!
While some of us just drop by now and then, we have many regulars who return every year. The International Push Hands Meeting is famous for its family-style atmosphere. We are always happy to see new faces – so why not give it a try? Since 2016, a continuous beginner's workshop forms part of the morning sessions dedicated to learning new techniques and diving into the Taiji principles. The afternoon sessions are reserved for free Push Hands, accompanied by a short introduction course for those who wish to attend. – And you do not want to miss our gala and party on Saturday evening!
Continuous beginners' program: Discover Push Hands!
Push Hands Beginner are very welcome at this meeting!
For the teachers a of the next International Push Hands Meeting, see HERE.
Schedule:
9:30 hour Presentations of the teachers and selection of workshop
10:00 – 13:00 hours Workshops
13:00 – 15:00 hours Midday break
15:00 – 17:45 hours Free push hands
Hint: Sign in for our Newsletter on the "Tai Chi Studio" Website. The site is in German but the newsletter itself will be in English language as well. You will receive Information on the Push Hands Meeting and other Tai Chi Chuan events.
Downloads 21st Push Hands Meeting
Map of venue: ph_map_small
Impressions, review of the last Push Hands Meetings
Review of the 18th Push Hands Meeting
Videos and images of the 14th meeting you will find here
Images and videos of the 13th meeting
Impressions from the Hannover Push Hands Meeting 2019
Review of a Push Hands Meeting by Ronnie Robinson:
The International Push Hands Meeting staged in Hannover, Germany is a firmly fixed schedule in the minds of most northern European players, who like to exchange with others, in the often varied art of tai chi tui shou, or push hands as it's better known to most. Taking place annually, and now in its 14th year, it provides the first opportunity of the year to meet friends, old and new, from various Europan locales… Read the whole article here
What is Push Hands?
Tui Shou (Chinese: 推手, pinyin tuī shǒu; Wade-Giles: t'ui shou, pronuciation: soundfile), also called Push Hands or Pushing Hands is a two-person training routine, especially in Taijiquan but also in other internal martial arts.
Push Hands as a partner exercise provides a possibility to learn how to deal with incoming power. In contact with a partner, one can thus establish e.g. whether one is correctly centred or double weighted. Partner work in Push Hands may also provide hints on how to improve one's Taijiquan form, following the ideal: Do the form the way you fight and fight the way you do the form.
Read the whole article "push hands" on Taiji-Forum.com!
TAI CHI-STUDIO
Nils Klug
Zur Bettfedernfabrik 1
D-30451 Hannover
Tel: 0511 45 35 75 oder 0160 97 37 98 76
Web: www.tai-chi-studio.de
Mail: info@tai-chi-studio.de
Enter Germany from EU and associated countries
To enter Germany from EU and associated countries (CH, LI, Norway, Iceland) there are no special requirements. (Two doses of a vaccine which is licensed in Europe / EU are only needed coming from other countries.)
There is also no requirement for a special registration before entering Germany.
To participate in the meeting there are not any covid-related requirements – no vaccination and no testing is needed.