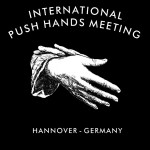 The current meeting will take place on 22nd – 26th of February 2023 in Hannover, Germany.
Schedule:
9:30 hour presentations of the teachers and selection of workshop
10:00 – 13:00 hours Workshops
13:00 – 15:00 hours Midday break
15:00 – 17:45 hours Free push hands
Teachers and Themes 2023
Early Morning Qigong
Every morning, starting on Thursday, there will be morning Qigong in the Tai Chi Studio – more information at the meeting.
Demonstrations
We will have a Gala and party on Saturday evening in the Warenannahme.
Mornings
Workshops with international teachers: Deepen your knowledge, refine your skills!
Check out our guest teachers and their workshops here.
Afternoons
Free Push Hands – Play? Fight? Explore!
Free Push Hands is formless, creating random patterns. Working with a partner and leaving the form behind, you can explore the form of formlessness.
Playing, fighting, dancing, experimenting, … – No matter which your favorite view of personal interaction or martial arts is, all boils down to communicative action. Push Hands is not about speaking and explaining – we use our hands and bodies to feel and to communicate.
The single rule of trying to follow the Taiji principles with respect for your partner allows you to experience Taijiquan in a non-formalized way as a practical martial art. In bodily communication with your partner, you can safely explore the meaning behind the Taiji Classics and the unique challenges going with it:
How to effectively eliminate body tension?
How to align body, mind and spirit in action?
How to deal with fear and aggression?
How to put your intention into a non-wilful action?
How to meet hardness with softness?
Merging with others without losing yourself, you are also invited to dance with questions of everyday life:
How to stay focused while going with the flow?
Why to invest in loss?
When to lead and when to follow?
How to create meaningful communication?
This common communicative background of Taijiquan allows practitioners of different styles to practice and work together on their understanding of the principles. Join us and let's go a bit of our way together!
Beginners
Continuous beginners' program: Discover Push Hands!
Push Hands Beginners are very welcome at this meeting!
Prices (Euro)
Whole Meeting (5 days): 350 Euros
Single Days: 70 Euros
Saturday (Gala/Party): 90 Euros
Overnight stay: 10 Euros per night
We ask for your understanding that in principle only full days can be booked. Half days can only be booked at the door in connection with at least another full day.
There are numerous inexpensive cafés, pubs, fast-food restaurants and supermarkets in the direct vicinity of the Tai Chi Studio, so that you can easily arrange your own meals.