Push Hands Beginner are very welcome at this meeting! Below you'll find videos with impressions of participants who attended the meeting the first time.
Continuous beginners' program: Discover Push Hands!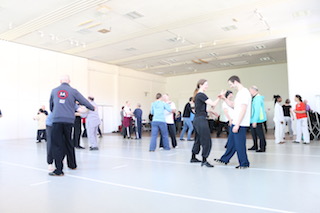 Push Hands (Tui Shou) means feeling or hitting hands and it is one of the most important partner exercises of Taijiquan. Depending on the individual approach it can represent an opportunity to practice the basic principles in respectful partner-work, a possibility to try out one's limits, a technique of non-verbal communication (hearing by feeling) or a transition from form work to free fighting.
For all of you who are interested in Push Hands but never had the chance to get a basic introduction into the partner-work of Push Hands, there will be a special 5-days course for beginners in the mornings.
If possible, you can bring along your (future) training partner to learn some of the central basic exercises together. This will make training at home much more efficient. If you want to attend on your own, a partner will be found on the spot; during the workshop the partners will be changed regularly anyway.
Pushing Hands for non-Taiji people – What can you learn along the way?
There are many aspects of Pushing Hands that you may come across in your daily private and professional life. Far beyond the realm of martial arts, one may develop a feeling for situations, people and — last but not least — for oneself. Pushing Hands is also a great opportunity to reflect on your habits and reaction patterns.
Some examples:
Body language
How do bodies communicate? How to read the communication of others? How do you appear? How do others appear to you?
Presence
How to present yourself? Am I acting according to the situation? Am I present?
Space
How do I preserve my space? How do I (unjustly?) invade the space of others?
Position
How do I correctly analyze somebody's position? How could I defend my position (my argumentation, my plan) if necessary?
Listening and Following
Am I able to listen? Can I follow – or do I provoke a conflict? What can I do if "nobody listens"? How can I follow the flow?
Creating momentum
How to follow your impulse without leaving your (business) partner behind? How to change a set rhythm to gain liveliness? How to animate others to play along? How to create momentum out of conflicts?
Calmness
How to remain calm in an insecure situation? How to settle (into) a conflict? How to regain power by resting in movement?
Pushing Hands is incredibly simple and at the same time overwhelming in its complexity. It is easy to do and knows almost no limits. Its roots are in martial arts, but its branches stretch out into every single aspect of human life.
So, whether you are a Taiji practitioner or not (yet): We invite you to dive with us into this art of wordless communication!
Prerequisites / fitness-level
There are no special prerequisites for Pushing Hands. You should bring clean indoor-shoes and not too tight clothes you feel comfortable in. – An outfit you normally use for light sports would be convenient.
Concerning the fitness-level: Average fitness is required – i.e. if you are able to walk and stand, you will be able to follow the movements in the morning sessions. Concerning the free Pushing Hands, experience in martial arts is not required. As we practice non-competitively, the partners will adjust to each other.
We are looking forward to meeting you!
Get a glimpse of the location: Tai Chi Studio page
Do you want to know more about Push Hands / Tui Shou?
Videos Push Hands Beginner comments on the meeting