Teachers and Themes of the 22nd Push Hands Meeting
Birgit Golze has been practicing Taijiquan for over 20 years. For 13 years, she has been teaching Taijiquan and partner exercises in her native city Dassel. Birgit discovered her passion for Push Hands during her teacher training with Master Nils Klug. Since this time, her own teaching of the form is closely linked to partner work.
Birgit's passion for Push Hands has led her to meet national and international teachers both in Germany and internationally as well as on meetings all over Europe. Birgit also gathered valuable experience in competitions, always ranking among the first three places.
And last not least, Birgit has been a long standing member of the organizing team of the International Push Hands Meeting Hannover. It is save to say that over the years she has "seen it all" – and she is happy to share her experience with you.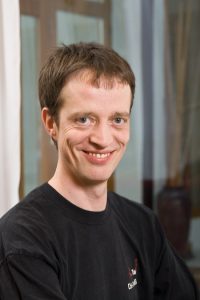 Nils Klug has been teaching Tai Chi Chuan in Hanover, Germany since 1991.
In 1993, he opened his first school. As the rooms soon proved to be too small, Nils decided to remain loyal to his Linden neighbourhood. He thus built his new school into one of the halls of the disused former factory building as part of an ecological project aimed at preserving the now listed building.
Since 1996, the Tai Chi Studio is now located at the Ecological Business Park Linden in close connection to the socio-cultural centre of FAUST e.V.
Teacher training and impulses
Nils Klug completed his teacher training with William C. C. Chen in New York. He has been teaching in his own school for over 30 years. William Chi Cheng Chen and Dr. Tao Ping Siang (Taiwan, +2006), who as Nils' second teacher has also had a profound influence upon his Tai Chi, both have been students of Prof. Cheng Man Ching.
Nils' further impulses are received by means of exchange with colleagues in the Chinese arts and of course his students.
Voluntary engagement for the Chinese arts
Until May 2014, Nils has been an active member of the German Network for Taijiquan and Qi Gong ("Netzwerk Taijiquan and Qi Gong e.V."). Between 2007 and 2013, Nils served in the Taijiquan and Qigong Federation for Europe (TCFE), the European umbrella organisation for Tai Chi and Qigong, as its president. Between 2014 and 2018, Nils has been the second chairman of the DDQT (German Association of Professionals in Qigong and Taijiquan).
In his activities, Nils is committed to promoting international exchange, continual professional training and communication, crossing the boundaries of styles and schools. In this spirit, he organised the 4th Federal Qigong and Taijiquan Forum for the German Network in 1998 and the International Cheng Man Ching Forum 2004 in Hanover.
Since 2001, he and his team organize the International Push Hands Meeting in Hanover, a bilingual (English/German) indoor meeting, which takes place annually in spaces around the Tai Chi Studio in Hannover-Linden.
Over the years, Nils has been teaching at numerous Tai Chi meetings in Germany and internationally and has been hosting at great number of guest teachers from around the globe.
In addition to other online activities, Nils has also been creating an international online portal for Tai Chi and Qigong, now accessible in two languages, on which he has been continuously working during his free time.
Continuous beginners' program
*Our bilingual workshop for Push Hands beginners follows a coordinated schedule with matching topics. It is led by Birgit Golze (Wednesday-Friday) and Nils Klug (Saturday/Sunday).
Ronja Jantje Hintze
Carpenter, Occupational Therapist, Taijiquan and Qigong instructor. Works as a Body Therapist at a psychiatric and psychotherapeutic clinic.
(Tai Chi) Life
In 1999, I went to Asia as a travelling journeywoman. A knee injury was to change the life I had originally planned for myself. In 2005, while still convalescing, I ended up with Angela Menzel at Tai Chi Schule Göttingen. I started out learning Taijiquan.
As early as 2007, I was so hooked that I started my Taiji instructor's training. Learning and teaching Taijiquan, Baguazhang, Tongbeiquan, Xingyiquan and Qigong have been moulding myself and my professional career ever since. I travelled to China several times to train with the Sha family in Kunming.
I also trained as a Qigong practitioner with Ramona Heister, whose Laoshan Qigong, coupled with the Laoshan Centre's therapeutic approaches, constitute a great enrichment and complement Sha Wushu.
Samuel Tinguely
Samuel discovered push-hands during kung fu classes in 2003 in Geneva, and has been in love with this practice ever since. During these classes, he learned some basics of meditation, qigong and taijiquan. When the kung fu school he was studying at closed in 2010, he pivoted to taijiquan, learning with Dominique Flaquet, a student of Master P'ng Chye Khym. There, he studied Yang style taijiquan and practised tuishou religiously. By that time, Samuel was also an accomplished dancer and dance teacher.
In 2015, Samuel moved to London and had to find a new teacher. Very luckily, he found Master Yan Long Jiang, disciple of Grandmaster Zhan Bo from Harbin. With Master Yan Long Jiang, Samuel learned Wu style taijiquan and deepened his knowledge of tuishou, spending hours weekly practising one-on-one with the master. During his stay in London, Samuel also learned Soft Tissue Therapy (a form of remedial massage therapy) and studied qigong from Master Yan Long Jiang, books by Dr. Yang Jwing-Ming and directly from Masters Faye and Tary Yip. Studying under the latters, he is now a recognised Health Qigong Instructor. Throughout this period, Samuel also taught blues and folk dancing in several festivals throughout Europe.
Samuel moved back to his native city of La Chaux-de-Fonds (Switzerland) in 2018, where he started teaching taijiquan and health qigong, in parallel to his massage practice. He started taking part in international events as well, attending Tai Chi Tcho in La Chaux-de-Fonds in 2019 and the 20th Push-Hands meeting in Hannover in 2020. This broadened Samuel's approach and allowed him to deepen his knowledge of the styles he knew well. He now teaches many weekly classes in both Wu style taijiquan and health qigong, as well as regular workshops about health qigong and meditation. He also organises monthly tuishou meetings in his town, where people from diverse styles meet to share their love for the discipline.
This history, combined with Samuel's passion for anatomy and the human body, gives him a unique perspective to share ideas around tuishou, ranging from mechanics to more esoteric approaches.
Basic peng-lü drill, open to complete beginners (but not only).
Anatomy and biomechanics for tuishou.
Breathing, meditation techniques and qigong for tuishou.
Folder of previous meetings
Teachers and Themes of the 18th Push Hands Meeting