Yonghui Deistler-Yi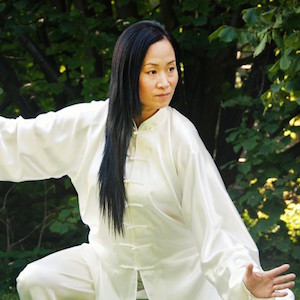 Since her childhood Yonghui has been fascinated by the Chinese martial arts. She made her first contact with them at school. Her focus is Taijiquan,
but she also has knowledge in Fujian Bai He Quan (white crane style) and in Tanglangquan (Praying Mantis style) – the style of her hometown, Yantai. She learned from teachers as James Lau Kung King, Yek Giong and Hao Cong. Since 2011 she has been close student of Master Wang Lian Yu. In the weapon arts her priorities are sword and fan. She learned Qigong with masters such as Li Zhi Zhang, Zhang Guangde, Li Xiaoqiu, …
From 83 – 90 she studied at the Art School / School of Painting and Applied Arts in China. In Vienna, she graduated from the master class in oil painting with Prof. Hutter and Hundertwasser at Vienna (90-96). Since 1988 numerous publications in art magazines and periodic exhibitions in China and Austria. Teaching at the
Liao Ning art school in China, and director of numerous courses in Vienna. Employment with new expression methods for traditional techniques of Chinese ink painting and calligraphy. 2016 calendar design with Wang Ning for Taiji & Qigong, in
cooperation with Taiji Europe. Currently Yonghui teaches Taijiquan, Qigong, weapons, and trad. Chinese painting.
Theme
Pushing Hands Combinations
To present his rich repertoire of partner exercises in a clear order, Master Huang Xingxian broke it down into a grid of 40 different combinations. Therein, the 8 different basic patterns (pushing hands patterns) are each arranged with 5 different possibilities of application.
In this workshop we will try out different pushing hands patterns from this guideline, explore their principles and try out one or the other possibility of practical application. Taiji basics will complete the training sessions.
www.yi-kunst.com
www.taijiarts.at
Laura Stone
has been active as a T'ai Chi Ch'uan practitioner and teacher since 1972. She is fascinated by soft, grounded contact, flowing movement and the creation of space, everything to experience the connection with our innate natural balance and power.
At the same time, by training in T'ai Chi applications and boxing, she experienced how it is possible to relax and stay open under pressure; to have access to focused power without holding back; to learn and expand boundaries with playful and intensive training. Everything with precision, awareness and freedom.
As Grandmaster William C. C. Chen says, the core of T'ai Chi Ch'uan is to always know precisely what you are doing. End of story.
Laura has delighted in teaching for her whole life . She is always looking for the right words and refinements that allow each student to experience the essence of T'ai Chi Ch'uan. – This in an atmosphere of openness and softness.
Laura received her diploma from Grandmaster William C. C. Chen in 1986 and has had her own school since 1979 (T'ai Chi Ch'uan Association of Indiana, Bloomington, Indiana, USA, and The Studio School of T'ai Chi Ch'uan, Deventer, The Netherlands).
Three interactive T'ai Chi Ch'uan workshops:
Soft Contact Connection
Ground like a mountain,
Root like a lotus flower
Connect like flowing water
The foundation of these workshops is Grandmaster William C. C. Chen's T'ai Chi Ch'uan. The workshops will be given as a progressive series and are open to all styles and levels of practice. The exact content of individual and partner (push hands and applications) exercises will unfold according to those present.
We will explore Soft Contact Connection as the ground for being fully present with another while allowing the space for the other to also release into being fully present.
Step one: Soft Contact Connection in stillness.
Being in physical contact without pulling, pushing or intention to do anything.
The way is to deeply relax and let go while remaining fully awake and open.
The touch is gentle, forming exquisitely to the surface that is touched (matching).
The practice is with the mind of curiosity.
Step two: Applying the qualities of Step one with harmonious complete contact interaction.
The interaction is investigative, playful, healing.
Playing further with matching and joining in dynamic relationship (listening).
Step three: Applying the qualities of Step one and two to gradually higher stress situations.
Playing with "harder" contact, less space and time (yielding, neutralizing and uprooting)
Step four: Embodying "from nothing to something and something to nothing".
Applying the qualities of soft contact connection while uniting intention and action into one focused, dynamic action (uprooting).
The results are:
Building a subtle mind-body database that expands the field of relaxed response before the automatic reaction response system kicks in.
Training a meditative mind and sensory system that remains open, receptive and responsive under stress.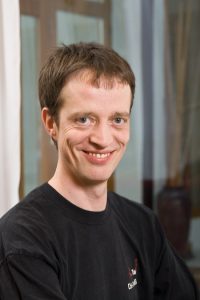 Nils Klug has been learning Taijiquan since 1990. In 1993, he opened his first school. Over the years, he has taught at numerous Taijiquan meetings and has held workshops in Germany and abroad. To enable cross-style exchange in Taijiquan, Nils has been organizing the International Push Hands Meeting in Hannover since 2001. He also runs the website taiji-forum.com and its German sister-page. Both aim to promote Chinese internal arts and showcase the many ways in which Taijiquan, Qigong and other Chinese internal arts are taught and practiced worldwide.
Nils is a student of Grandmaster William C. C. Chen (New York) and is authorized by him to teach his Taijiquan. Grandmaster Chen, who has been teaching Taijiquan for over sixty years, was a student of Professor Cheng Man Ching, as well as Nils' second teacher Dr. Tao Ping Siang (Taiwan, †2006) who also has had a major influence on his understanding of Taijiquan and Push Hands.
Theme:
Introduction to push hands
The introduction to Push Hands is a continuous five day workshop especially designed for (Tai Chi) beginners and all people new to push hands. Its goal is to give everybody the means and the confidence to practice free pushing hands in a spirit of fun and communication.
We will work with simple partner exercises that will be refined during the course of the week. Building upon a few basic rules, we will also begin to experiment with free pushing hands that does not follow a set pattern.
Subjects covered are: Protect yourself first, How to be a good partner?, listening, neutralizing, responding. The focus of days 1-3 will be on "yield and wait", while the key aspect of days 4 and 5 will be expanding (uprooting and exploding).
Accessible to all.
Mario Napoli
Mario Napoli will teach his way of pushing hands in five independent workshops from Wednesday till Sunday. Due to his training methods a basic degree of bodily fitness and martial conditioning is mandatory, so that we recommend this course for advanced practitioners only.
Theme
Training in moving free Yang style push hands
As Mario did not want a list of teachers and accomplishments speaking for him, you may read an interview with him which was lead by Ronnie Robinson at the 10th Push Hands Meeting in Hannover. We also invite you to have a look at his Youtube channel to get an impression of his world of pushing hands.
Interview videos
Part 1
https://www.youtube.com/watch?v=2e3G46PaqpE
Part 2
https://www.youtube.com/watch?v=OTazZqWFffA
Advanced only!
Biography: calligrapher, seal cutter, translator and Tai Chi teacher – studied German literature and language in Peking. Thanks to his experience he is able to build bridges between the Chinese and Western worlds of thought and emotion. We will receive an introduction to the (philosophical) foundations of the movement arts of Tai Chi Chuan and Qigong — not through a dry and theoretical lecture, but as the calligrapher paints the image-based concepts of the Chinese world view. These concepts are hidden in the Chinese characters, and their interpretation takes us on an exciting journey through China's cultural history. This often leads to new and surprising meanings which are quite different to the normal correspondences and translations used in the West.
Ning will be around at the free pushing hands sessions cutting seals and is happy to answer your questions about the philosophy of Taijiquan.
Exhibition "Calligraphies by Wang Ning"
For the first time after 20 years of absence Wang Ning will show his calligraphies during the 20th International Push Hands Meeting in the Tai Chi Studio Hannover, Germany.
The Vernissage will be Friday, the 28th of February 2020.
Read this article or the poem for Ning on taiji-forum.com for more information!