Teachers and Themes of the 22nd Push Hands Meeting
Birgit Golze has been practicing Taijiquan for over 20 years. For 13 years, she has been teaching Taijiquan and partner exercises in her native city Dassel. Birgit discovered her passion for Push Hands during her teacher training with Master Nils Klug. Since this time, her own teaching of the form is closely linked to partner work.
Birgit's passion for Push Hands has led her to meet national and international teachers both in Germany and internationally as well as on meetings all over Europe. Birgit also gathered valuable experience in competitions, always ranking among the first three places.
And last not least, Birgit has been a long standing member of the organizing team of the International Push Hands Meeting Hannover. It is save to say that over the years she has "seen it all" – and she is happy to share her experience with you.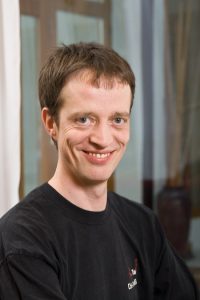 Nils Klug has been teaching Tai Chi Chuan in Hanover, Germany since 1991.
In 1993, he opened his first school. As the rooms soon proved to be too small, Nils decided to remain loyal to his Linden neighbourhood. He thus built his new school into one of the halls of the disused former factory building as part of an ecological project aimed at preserving the now listed building.
Since 1996, the Tai Chi Studio is now located at the Ecological Business Park Linden in close connection to the socio-cultural centre of FAUST e.V.
Teacher training and impulses
Nils Klug completed his teacher training with William C. C. Chen in New York. He has been teaching in his own school for over 30 years. William Chi Cheng Chen and Dr. Tao Ping Siang (Taiwan, +2006), who as Nils' second teacher has also had a profound influence upon his Tai Chi, both have been students of Prof. Cheng Man Ching.
Nils' further impulses are received by means of exchange with colleagues in the Chinese arts and of course his students.
Voluntary engagement for the Chinese arts
Until May 2014, Nils has been an active member of the German Network for Taijiquan and Qi Gong ("Netzwerk Taijiquan and Qi Gong e.V."). Between 2007 and 2013, Nils served in the Taijiquan and Qigong Federation for Europe (TCFE), the European umbrella organisation for Tai Chi and Qigong, as its president. Between 2014 and 2018, Nils has been the second chairman of the DDQT (German Association of Professionals in Qigong and Taijiquan).
In his activities, Nils is committed to promoting international exchange, continual professional training and communication, crossing the boundaries of styles and schools. In this spirit, he organised the 4th Federal Qigong and Taijiquan Forum for the German Network in 1998 and the International Cheng Man Ching Forum 2004 in Hanover.
Since 2001, he and his team organize the International Push Hands Meeting in Hanover, a bilingual (English/German) indoor meeting, which takes place annually in spaces around the Tai Chi Studio in Hannover-Linden.
Over the years, Nils has been teaching at numerous Tai Chi meetings in Germany and internationally and has been hosting at great number of guest teachers from around the globe.
In addition to other online activities, Nils has also been creating an international online portal for Tai Chi and Qigong, now accessible in two languages, on which he has been continuously working during his free time.
Continuous beginners' program
*Our bilingual workshop for Push Hands beginners follows a coordinated schedule with matching topics. It is led by Birgit Golze (Wednesday-Friday) and Nils Klug (Saturday/Sunday).
Wednesday – Friday (Birgit Golze)
At the beginning, a promise: During partner work, you will never be alone! For this communication between two people to succeed, making contact with the Other is the first step. If we are feeling secure and comfortable, we will loosen up enough to be able to notice the movements of our partner more precisely – we will be able to listen to what is sent towards us. To gather our first experiences in the increasingly spontaneous play with question and answer is the goal of the workshop's first three days.
Wednesday – Making contact
In this workshop, we want to lay the base for our communication: we practice to listen, to feel and to go along with the flow.
With only a few, but intensive exercises, we will make our first contact with push hands and focus on taking notice of our partner in free partner exercises.
Due to this soft beginning, this workshop is also suitable for anyone that does not want to start the meeting by immediately going "all in" on the first day.
Thursday – Feeling movements
The second day will focus on the moving communication between two partners: What does my partner say to me? – and: What do I tell him*her? How is the flow of the information going back and forth between the two persons? We will experiment with some ideas that we may use in free push hands in the afternoon.
Friday – Playing
The third day centers around Pushing Hands as a game between two partners. Working with exercises that provide us with the necessary safety, we will be practicing how to be a good partner as well as developing a sense for the actions of our partner.
We will learn new vocabulary by widening our horizon with additional experiences: Learning how to deal with slow and fast, small and big movements of our partner will help us to communicate more spontaneously with our counterpart.
Saturday / Sunday (Nils Klug)
Flexibility and creativity on both sides are needed to develop a conversation in progress into a really good story. The fourth day of the workshop will therefore focus on calmness and collectedness – because inner tranquility is the basis for a flexible posture towards unusual ideas that will be thrown at us. – And on day 5, we will learn how to go one step further even in such a situation. After all, the conversation is supposed to be an interesting experience for both sides.
Saturday – Flexible (re)actions
The wordless communication in free Pushing Hands is open and spontaneous. Even though one may get to know one's partner over time, one often does not foresee what will be next. Thus, it is a good idea not to commit oneself too early to a specific response.
Today, we will work on the basics of a flexibility that allows us to wait in a relaxed manner until we see things develop themselves without giving up our basic posture in the course of the conversation: Today, we will say "YES!" to everything crossing our way!
Sunday – Spinning the yarn of our story
Nobody has an answer to everything! – Or do we? To expand a sentence into a story, the idea has to be continued. Improvisational theatre therefore does not know the answer "No" concerning ideas to develop the story, but instead works with "yes, BUT", or even better: "yes, AND".
Yesterday's take away was how to say "yes" without giving up our space. – How to add our own ideas is the topic of the last day of the beginners' workshop. And of course, Nils will give you some simple tips on what to do when you run out of ideas in the middle of the conversation…
Ronja Jantje Hintze
Carpenter, Occupational Therapist, Taijiquan and Qigong instructor. Works as a Body Therapist at a psychiatric and psychotherapeutic clinic.
(Tai Chi) Life
In 1999, I went to Asia as a travelling journeywoman. A knee injury was to change the life I had originally planned for myself. In 2005, while still convalescing, I ended up with Angela Menzel at Tai Chi Schule Göttingen. I started out learning Taijiquan.
As early as 2007, I was so hooked that I started my Taiji instructor's training. Learning and teaching Taijiquan, Baguazhang, Tongbeiquan, Xingyiquan and Qigong have been moulding myself and my professional career ever since. I travelled to China several times to train with the Sha family in Kunming.
I also trained as a Qigong practitioner with Ramona Heister, whose Laoshan Qigong, coupled with the Laoshan Centre's therapeutic approaches, constitute a great enrichment and complement Sha Wushu.
Workshop: Pushhands with "Amplifiers"
Using a playful approach wherever possible, we will be developing good basic prerequisites for Pushing Hands. We will be exploring our own stability and agility, focusing on direction of movement, effects of movement, and effects of the force of the movement. We will be using "Amplifiers": Sticks, string, and weights. A further aspect we will be training on that basis is the perception of our partner: the "Ting jing", the "listening sense". The interplay of Yin and Yang qualities will become clearer. This will promote a powerful but tender flow of movement in Pushing Hands.
Has studied various Far Eastern martial arts since youth. His main focus is Taijiquan and Taiji Tanglangquan (praying mantis style). His main teachers are Masters James Lau Kung King (direct disciple of GM Huang Xingxian), Zhou Zhendong, (lineage holder in Taiji Tanglang in the 9th generation) and Wang Lian Yu (Taijiquan in Yang style).
Niki Deistler won several gold medals at international Wushu Championships in China and also led some of his students to successful participations at the Austrian Wushu Championships.
In 2006, together with his wife, Yonghui D.-Yi, he founded the association – TAIJIARTS – for the promotion of Chinese martial arts and philosophy.
Together they regularly spent a lot of time in China with their teachers.
Niki Deistler teaches full-time in Austria. He is a teaching trainer for the IQTÖ (Interest Group of Austrian Qigong, Yiquan and Taijiquan Teachers), as well as a lecturer for Qigong at the Danube University Krems. He is also on the board of Shambhala – Centre for Holistic Health Education and Personal Development (formerly Tai Chi Association Shambhala).
Together with Yonghui D.-Yi, Niki leads various Taiji, Kungfu and Qigong intensive and training groups.
The creative combination of different styles in Pushing Hands
Three styles, three concepts, three methods
What do seemingly different martial arts such as Taijiquan, Baihequan (White Crane Fist) and Tanglangquan (Mantis Fist) have to do with each other? – Little, one might think. However, one
thing they have in common, is that all three styles use a form of Tui Shou (Pushing Hands), as a training tool.
Many of us practice one style, some of us are involved in more than one, or have at least dabbled in another art here and there. This can be very enriching, but sometimes it can also quickly overwhelm you and entangle you in apparent contradictions.
In this workshop you will learn by means of three examples how you can integrate different styles into "your style" by using Pushing Hands as a bridge in a meaningful and profitable way. To do this, we will analyze basic principles of these three arts and use them appropriately. With this new understanding, we will be able to go new ways independently and in a creative way.
What can you take home from this workshop?
Three solo basic exercises, one each from Taijiquan, Baihequan and Taiji Tanglangquan – Three pushing hands methods
Three basic concepts
Endless variations, ideas and inspiration
Tai Chi Studies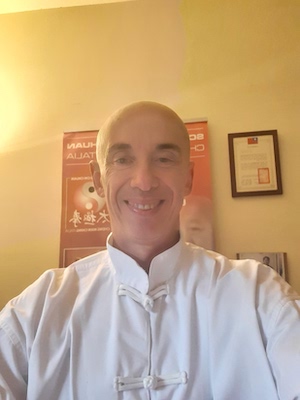 Massimiliano Biondi is one of today's leading experts of the Cheng Man Ching style of Tai Chi Chuan in Europe. He has been studying and practicing Tai Chi Chuan continuously since 1995, and since 1999 he has been teaching it, after being introduced to the Cheng Man Ching style by Master Tiziano Grandi.
Massimiliano is a student of Grand Master Chu Hong Ping and Master Wang Chi Shih from Taiwan. With the latter, he was able to study all the fundamentals of the Cheng Man Ching style of Tai Chi Chuan, with the addition the traditional two person form of Yang style San Shou. Massimiliano also studied with Master Ken Van Sickle from New York as regards the study and practice of the Tai Chi sword.
Over the years, Massimiliano has increasingly specialized in the various aspects of the art, meeting, studying and comparing himself with other important Tai Chi Chuan masters internationally renowned: Chen Hsiu Yao (Rosa Chen), William Nelson, Hsu Yee Chung, Benjamin Lo, Gianfranco Pace, Lau K. King, Lin Mu Huo, William C. C. Chen, Mario Napoli and other great experts like Luis Molera, Lenzie William, Nils Klug, Shen Yan Sheng and Zhuang Kaijun.
Among these, very important in his training were the teachings of Master Chen Hsiu Yao (Rosa Chen) for Qi Gong and Master William Nelson for Tui Shou and the fast form of the Yang style (Kuai Tai Chi). The study experiences with the Masters Gianfranco Pace and Mario Napoli were particularly illuminating, too.
Head Master of Tai Chi Chuan style Cheng Man Ching recognized by the Chinese Martial Arts Sector MSP Italy and the PWKA Cultural Sports Federation, Maestro Biondi puts PRACTICE in all its forms and facets.
Teaching
Massimiliano is an advocate of a continuous practice that can also become very intense – and which must always be training and conditioning – as well as of the study of the subtle aspects of Tai Chi Chuan as the main means of growth.
His lessons are very engaging, varied and rich in content, designed to make students do quality work that leads to ever higher levels. Over the years, Massimiliano has organized and participated in numerous events including seminars, conferences, meetings and rallies, traveling in Italy and abroad.
Theme
At the 22nd International Push Hands Meeting, Massimiliano will be teaching a series of workshops under the umbrella theme:
"Tui Shou: Basic and advanced instructions and techniques".