Teachers and Themes of the 16th Push Hands Meeting
The teachers of the 16th International Push hands Meeting in Hannover are coming from Germany, Italy, England, China und Austria:
Yang Zhenhe, Barry McGinlay, Emma Lee, Niki Deistler, Adam Mizner, Dieter Mayer and Klaus-Heinrich Peters.
Niki Deistler
Niki Deistler has been studying various Far Eastern martial arts since youth. His focus is on Taijiquan by GM Huang Xing Xian as well as Taiji Tanglangquan (Praying Mantis style). His two main teachers are Master Lau Kung King (direct student of GM Huang) and Master Zhou Zhendong, lineage holder in Taiji Tanglang in the ninth generation. Niki Deistler successfully participated in several Wushu Championships in China and also introduced some of his students for successful participation in the Austrian Wushu Championships. In 2006 he founded together with his wife, Yonghui D. Yi, TAIJIARTS –  association to promote Chinese martial arts and philosophy. He regularly spends a lot of time in China. Niki Deistler is teaching full-time in Vienna. He is a teacher's trainer of the IQTÖ (representing the interests of Austrian Qigong, Yiquan and Taijiquan teachers), as well as lecturer for Qigong on the Danube University Krems. His work includes various projects on Taiji and coaching, as well as writing various technical articles.
Theme: Pushing Hands – hand connections – from fixed pattern to free play
To make the transition from fixed patterns on the free Pushing Hands as natural as possible, Lau Kung King developed the so-called "Pattern of Hand – Connections". It concentrates the most powerful and essential elements from the rich Tui Shou repertoire within the tradition of GM Huang Xingxian. First, it is like a fixed pattern and can then be practiced more freely combined and carried out very flexible. For example, from bow stance into the parallel stance, and finally into the broken stance. Beginners have the security, of working within a fixed frame and being able to enjoy a certain flow, while advanced people can improve their timing and try to find the optimal "Point of Issue".
Because each Tui Shou is only as good as its backing, we engage in this workshop on proven exercises of Huang School, such as "Taiji Bamen" (8 basic forces), or elements from the White Crane.

Klaus Heinrich Peters
Klaus is training Taijiquan for more than 20 years from which he devoted the last decade exclusively to Peter Ralston's "Cheng Hsin – The Art of Effortless Power". Having his home base in Hamburg, he's travelling for several years now through Germany and neighbouring countries to teach Peter Ralston's "Principles of Effortless Power" in style-independent seminars.
Theme: Effortless power by means of radical relaxation and unconditional yielding
How often do we use muscular strength in our pushing-hands practise although
we were committed to stay relaxed? How often do we parry, redirect or even
resist external forces instead of just yielding? A big part of our Being is
obvioulsy not quite convinced that "the weak overcomes the strong and the
soft overcomes the hard".
In this workshop I invite you to commit to relaxation and yielding
unconditionally. We will push these "soft-skills" across the borders of our
common understanding in order to find new and unexpected levels of feeling,
intelligence and functionality. Often we will experiment and learn outside the
familiar borders of the pushing-hands game, but at the end of the 3 days we
will transfer everything back into our Taiji practise.

Dieter Mayer
DDQT certified Instructor for Qigong & Taijiquan, Wing Chun und Escrima teacher
Martial Artist, Author, Musician and Craftsman
Dieter lives for the five, or in other words, he cannot escape its influence. As soon as he needs a rest from the "five elements", he ends up with the blues: Addicted to the pentatonic scale, his love belongs to the guitar. In his room you can admire old Gibson and Fender guitars. His heroes are Jimi Hendrix, Muddy Waters and AC/DC. With him, everything gets into pulsating, bouncing and most of all grooving. In his workshop, everyone can learn to decode the rhythmic order of elementary movements and to improve his or her timing.
Theme: Feel the Groove – Rhythm in Push Hands
Those who want to push with feeling, efficiency and fun, need a good timing. But in our efforts towards a good posture, correct positions and a precise technical course of movement, we often forget the most important part – the groove. This workshop gives you the opportunity to awake your sense for rhythm and the internal dynamics of the pushing hands patterns with basic exercises und simple guidelines. Grooving, we will play with different applications and will thus discover different rhythmic varieties.

Yang Zhenhe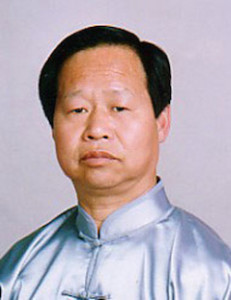 Master Yang ZhenHe was born 1953 in Guangfu, District Yongnian, Province Hebei, the cradle of Yang Style Taijiquan. The founder of the Yang Style, Yang LuChan (1799-1872) came from this same place, in which the Tai Ji Quan of the Yang Style is still cultivated in direct lineage until today.
Yang LuChan passed the art down through his sons Yang BanHou (1837–1892) and Yang JianHou (1839–1917) to his grandsons Yang ZhaoPeng (1872–1930), son of Yang BanHou, as well as Yang ShouHou (1862–1929) and Yang ChengFu (1883–1936), both sons of Yang JianHou.
Influenced by the spread of Taijiquan at the imperial court and the Boxer Rebellion, especially Yang ChengFu made important changes to today's Yang Style by removing the faster and more complex movements from the long form and by enlarging the movements.
Zhai WenZhang (1919–1989), the teacher of Master Yang ZhenHe learned from Yang ZhaoPeng and Yang ZhaoLin, a nephew of Yang BanHou. He acted in his days as official representative of the Yang and Wu(Hao) Style in Guangfu and accepted Yang ZhenHe as one of his main students.
After the death of Zhai WenZhang, Yang ZhenHe became a student of Yang ZhenDuo, the forth son of Yang ChengFu.
Today, Yang ZhenHe acts as a head coach for Yang Style Taijiquan in Guangfu. His Tai Ji Quan is taught in diverse schools and universities in the Yongnian area and he is a sought-after instructor and teacher throughout China and as well in Japan, Singapore and Europe.
Yang Lifen will assist her father along with Thomas Börnchen from Hamburg and she will perform a fan form at the Gala on Saturday evening.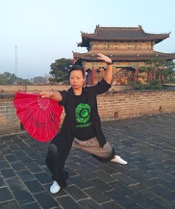 Yang Lifen, born 1980 in Guangfu, Yongnian, China, is a representative of the 6th generation of Yang Style Taijiquan. She learned the entire system of Yang Style Taijiquan – various fist forms, weapon forms and tuishou – since childhood from her father Master Yang ZhenHe, representative of the 5th generation of Yang Style Taijiquan.
She won several gold medals in competitions. She is Vice-Director of Yang ZhenHe Wushu Institut, Yongnina, and head coach for Taijiquan at Yongnian Taijiquan Association in several countries.
Theme: A historical inquiry into traditional Yang Style Tuishou
By means of numerous historical documents and by drawing upon the results of his own long years of research in the Yongnian region, the home country of Yang Style Taijiquan, Master Yang will illustrate the basic values of Yang Style Tuishou, like e.g. the right relationship between Yin and Yang, gentle and strong, soft and hard, slow and fast etc.
How did the Old Masters practice Taiji in the past? How do the people in the home country understand these values until this very day? How does the relation between structure building, forwarding of the energy flow and the practical experience of Tuishou look like? To all this Master Yang adds relevant examples and demonstrations.
Adam Mizner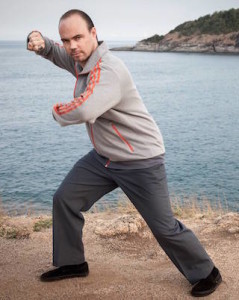 Sifu Adam Mizner teaches Yang Style Tai Chi Chuan, in the tradition ofHuang Sheng Shyan and Yang Shouhou. Adam has also dedicated many years to the in depth study of Daoism, western Hermetics and the Buddha dhamma, and is a senior lay student of Ajahn Jumnien in the Thai Forest tradition of Theravada Buddhism. This deep spiritual background has a large influence on his approach to Tai Chi and teaching.
Adam Mizner started his martial arts practice in his teens. Over the years he has traveled extensively to acquire a wealth of skills and genuine traditional teachings of Tai Chi. Sifu Mizner has had 7 primary teachers of Yang Style Tai Chi from the Huang Sheng Shyan and Yang Shou Hou lineages, and has mastered meditation, which also plays a major role in his approach to the practice and the teaching of Tai Chi Chuan. Sifu Adam Mizner is a 7th generation Yang style Tai Chi Chuan teacher, and transmits the outer system and inner technologies of these systems in a pure and direct way.
In 2004, after extensive personal practice and many years of teaching Tai Chi, Qi Gong and Meditation, Sifu Adam Mizner founded Heaven Man Earth Taiji International.
Heaven Man Earth Taiji International is dedicated to the propagation of authentic traditional Yang Style Tai Chi. With trainings to achieve one's goals in the health, martial and spiritual aspects of Tai Chi. The basic skills, qi gong, forms, weapon training, push hands and fighting skills are drawn from the two Yang Style lineages, making what we consider to be one of the most complete and authentic Yang Style transmissions available today. It is the union of these training methods into one progressive system, under the skilled guidance of Sifu Adam Mizner, that produces an extremely deep and complete Yang Style Tai Chi system. In our experience this alive system produces results unmatched anywhere else, leading the student from beginner to entering the true door of the internal and right through to the higher mysteries of Tai Chi Chuan. The technology heavily focuses on developing Song and Ting and the total abandonment of external force or Li.
Sifu Adam Mizner has dedicated his life to the teachings of traditional martial arts and meditation. He has given workshops in Australia, Asia, North America and Europe and has students and teachers from around the world visit him year round at the HME headquarters in Phuket, Thailand for additional, personal training. He is currently relocating to Europe.
Themes:
"song gong and its application to pushing hands"
detailed instruction on the internal mechanics of master Huang Sheng Shyan's loosening exercises and how they develop the taiji powers for and in pushing hands.
"the six harmonies and internal jin"
how to develop the six harmonies which are the essential components of internal practice. how these harmonies come together to produce real internal power
"hua, na and fa"
transforming, seizing and issuing force, these are the tactical skills of taijiquan, learn how to develop these energies and how to combine them in real time.

Emma Lee
Emma Lee is a World Tai Chi gold medallist and 2 times European Tai Chi pushing hands champion.
She has been a practitioner of Tai Chi and Qigong since 2002. In January 2010, Emma became Barry's first apprentice, and trainee assistant teacher for Tai Chi Life School.
Emma is recognised as an Intermediate Instructor by the Tai Chi Union for Great Britain (TCUGB), and is a certified instructor of the Longfei Taijiquan Association of Great Britain and the British Council for Chinese Martial Arts (BCCMA).
Emma has additionally been taught by masters Simon Watson, Richard Watson, Wang Yanji, Professor Li Deyin, Faye (Li) Yip, and Tary Yip. Emma has also travelled to China several times to reinforce her Tai Chi training.
Theme: Moving: A Step Beyond
Simple steps from fixed to moving pushing hands
Barry McGinlay
Barry is a World Tai Chi champion, Gold medalist pushing hands in the world famous Taiwan world championship and European Gold medalist, and has coached International World, European and National tai chi champions. He is a trailblazer for tai chi in the UK.
He is certified as an Advanced Instructor by the Tai Chi Union for Great Britain (TCUGB) and as an Instructor of the Longfei Taijiquan Association of Great Britain. Barry is taught Tai Chi by Master Simon Watson, Master Richard Watson, Master Wang Yanji, Professor Li Deyin, Master Faye Li Yip and Master Tary Yip under the lineage of Master Li Tianji.
With over 30 years of experience, Barry is dedicated to teaching all aspects of martial arts and has been a Tai Chi and Qigong practitioner for 18 years. He is a full time professional martial artist and teaches internal and external?martial arts to a diverse range of students. He also teaches internationally and organises workshops and retreats in England, Thailand, Cambodia and China. These trips combine experiences of Eastern culture and philosophy with Tai Chi and Qigong training. All of these events have been popular and successful.
Being active within the London Chinese community, Barry has built strong links through teaching Tai Chi and Qigong, and from participating and performing at their cultural events. He is interested in the fusion of the performing arts and martial arts and has studied at the traditional school of Beijing Opera in China, and amongst other projects, has collaborated with professional dance choreographers to bring Tai Chi to the stage.
Barry works consistently within the local community. He has worked with children with special needs and behavioural issues, and students with medical conditions, including recovering cancer patients and students with heart-related conditions.
He has a very hands-on approach to his teaching practise and is dedicated to teaching the self empowerment that is generated within the individual's learning experience. He focuses on one-to-one attention for individual and specific needs and encourages all students to explore new boundaries and so reach their full potential.
Theme: Working in harmony with change…. using the universal principal approach technics.
Wang Ning
Biography: calligrapher, seal cutter, translator and Tai Chi teacher – studied German literature and language in Peking. Thanks to his experience he is able to build bridges between the Chinese and Western worlds of thought and emotion. We will receive an introduction to the (philosophical) foundations of the movement arts of Tai Chi Chuan and Qigong — not through a dry and theoretical lecture, but as the calligrapher paints the image-based concepts of the Chinese world view. These concepts are hidden in the Chinese characters, and their interpretation takes us on an exciting journey through China's cultural history. This often leads to new and surprising meanings which are quite different to the normal correspondences and translations used in the West.
Ning will be arround at the free pushing hands sessionscutting seals and is happy to answer your questions about the philosophy of Taijiquan.
Folder of previous meetings